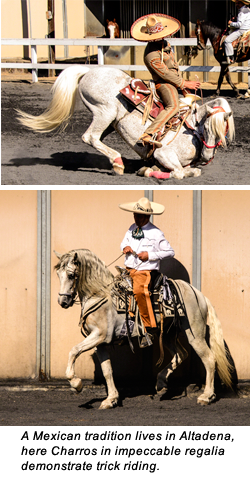 On a sunny Saturday, October 19th, 2013, Altadena Heritage celebrated our rich equestrian past and present by designating the area loosely bounded by Ridgeview Drive, Mariposa, Casitas and Hahamongna another Altadena Heritage Area that we call the Altadena Equestrian Block.
The end of Ridgeview Drive was coned off, live music was provided along with food and refreshments. More than a hundred people gathered, Michele Zack conveyed a short talk that told how this place fits in the history of our town, followed by demonstrations of five different traditions of horsemanship at the Altadena Stables at the heart of the block.
The Stables have been an Altadena fixture since at least 1921, perhaps since as early as 1911. Like so much of Altadena, they have seen a series of incarnations — from opulence to decay to restoration, and reinvention. At one time it boasted a regulation size polo field, but almost died in the 1970s until purchased by Desdy Baggott,. She runs this thriving institution still, and the surrounding neighborhood is home to many horses and horse-lovers.
Displays of horsemanship included Western, Saddle Bred, Charro, Saddle Seat, and Charro riding – a tradition of fancy riding from northern Mexico and Old California very much alive in Altadena to this day.
Thanks to the County, the Supervisor's office kindly provided tables, chairs, umbrellas and traffic cones, and the Department of Public Works agreed to hang five signs around the Equestrian Block.